Imagining . Inspiring . Impacting a Great Community
Trails Program Receives Rock the Block Grant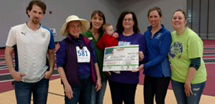 Aspire Johnson County's trails program has received a financial boost from a Center Grove event.
Rock the Block Run awarded the program $2,500 to the Aspire Growth and Planning Team for their work in securing participants and volunteers on April 21.
More than 1,500 runners and walkers participated in the 10k timed run and 5K walk and timed run at Center Grove High School. Rock the Block Run is an event organized by Pay It Forward Johnson County, a nonprofit organization that so far has raised more than $280,000 for Johnson County charities.
The community run celebration utilizes the Center Grove High School campus, and includes a professionally timed/measured 10K run, a family-friendly 5K run/walk, and a "Main Street" experience including music entertainment, interactive vendor booths and food.
"Congratulations to Carmen Parker and everyone from Growth and Planning Team who worked so hard on getting runners and volunteers," said Dana Monson, interim director of the Johnson County Development Corporation. Aspire Johnson County is a program of JCDC.
Aspire finished second among the 21 charities for the number of runners, walkers and volunteers. The funding will toward Aspire's county-wide trails program that is mapping existing ones and recommending connecting corridors throughout the county.