Imagining . Inspiring . Impacting a Great Community
Talent Retention, Attraction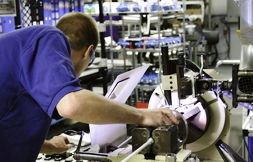 Finding, Keeping Excellent Employees
One of the most important consideration a company has today when deciding where to locate their business, or if they must decide to keep their business in one community or relocate to another, is the ability to have a quality workforce at their location. Maintaining skilled employees in a community is an important part of the work of the Aspire Talent team.
We are accomplishing this mission through collaboration with the local school corporations and employers, by hosting roundtables with educators and employers to learn about their needs and challenges and raising awareness about the many pathways to career success.
Our work has a two part focus, one that is raising awareness to our students and educators about the skills required for careers today and bringing this information to the parents as well, and the other that seeks to understand the needs of our employers now as well as how to help them build their workforce pipeline for the future.
Vision
To have a county-wide system of connections and pipelines to develop, recruit and retain talent that is considered excellent.
Mission
To raise awareness of the multiple pathways to success available to our students today, and to be a convening resource for our educators and employers as they work to find collaboration on the preparation of the workforce pipeline.
Statement of Belief
We believe everyone has talent and should have sustainable employment opportunities where they are valued and feel personally satisfied.
We recognize that it is essential:
to understand current needs of our employers and community.

to work with employers and educators to continue to build a workforce for the present and the future.

What excites us is the opportunity to bring awareness of the variety of pathways for education, successful careers and a productive life to students, educators, parents and in our community.
What drives us is the desire to build a county-wide network that will develop, train, recruit and retain talent that is excellent.
What unites us is the determination to be a convening resource for employers, employees, educators, students and their families. We want to help open doors to new possibilities.