Imagining . Inspiring . Impacting a Great Community
JMH, County Planner Honored at Celebration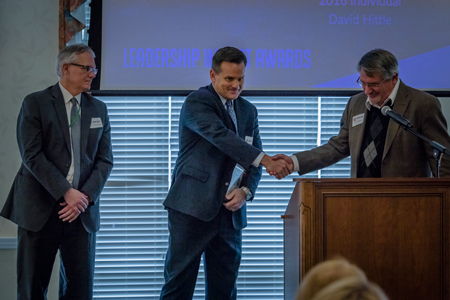 Aspire Johnson County has honored Johnson Memorial Health and the county's top planning official for their continuing support of community initiatives.
Larry Heydon, President and CEO of Johnson Memorial Health, and David Hittle, Director of the Johnson County Planning Department, were presented Community Impact Awards during the AJC Annual Celebration on Wednesday at Compass Park Event Center in Franklin.
The Aspire Johnson County celebration was part of the Johnson County Economic Development Corporation's Annual Meeting. Aspire is a program of JCDC.
Co-chairs Jeff Owen and Kent DeKoninck cited Johnson Memorial's ongoing leadership and financial support of Aspire. Heydon was the organization's founding co-chair and JMH has been a continuing Underwriter. "Larry's vision and the hospital's contributions have been instrumental to Aspire's success," Owen said.
Owen said Hittle has shown remarkable leadership in helping the county develop its ongoing land use plan - especially in White River Township and along the proposed Interstate 69 corridor. "The engagement of local government is critical to Aspire's success. Early on, our teams realized that we needed collaboration and support from all of our local entities, but especially Johnson County because of the area you manage."
Chairs of the Talent and Retention, Growth and Planning and Placemaking Teams presented their successes of 2016 and plans for this next year. Aspire's financial partners also were recognized.