Imagining . Inspiring . Impacting a Great Community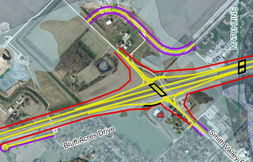 Finding Better Ways to Connect Our County
The Growth and Planning team looks at connectivity throughout the county including travel connectivity, web connectivity, utility connectivity and works to connect the expertise with the opportunities for economic growth in the county.
The team also continues to support the planning of the I-69 expansion into Johnson County and the effects for State Road 37. The team is also working with the Johnson County planning and zoning department to update the land use plan for White River Township that reflects the expansion of I-69 along state road 37.
Our Vision
Our committee is the destination to leverage collective resources, experts, and infrastructure to foster continued economic development.
Our Mission
To convene and connect resources within our community to advocate for excellence in the economic growth and planning of Johnson County.
Belief Statements
We believe that proactive planning is the foundation of a thriving and inclusive community.
We believe that continued growth is accelerated by promoting connectivity through family activity, health, and safety.
We believe that a community on the forefront fosters the progression of companies no matter the size.