Imagining . Inspiring . Impacting a Great Community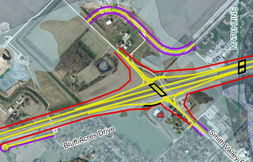 Finding Better Ways to Connect Our County
The Growth and Planning team looks at connectivity throughout the county including travel connectivity, web connectivity, utility connectivity and works to connect the expertise with the opportunities for economic growth in the county.
The team also continues to support the planning of the I-69 expansion into Johnson County and the effects for State Road 37. The team is also working with the Johnson County planning and zoning department to update the land use plan for White River Township that reflects the expansion of I-69 along state road 37.
Vision
Our vision is to work with municipalities to remove connectivity barriers to economic development.
Mission
Our mission is to convene and connect resources within our community to advocate for excellence in the economic growth and planning of Johnson County.
Goals
1. Educate ourselves about the infrastructure barriers in the county and develop relationships with the elected officials and decision makers.
2. Work through specific projects involving rural broadband, alternative energy plans, co-working spaces, collaboration, and corridor and county thoroughfare.
3. Continue to provide information to the public and elected officials on the I-69 discussion and planning.