Imagining . Inspiring . Impacting a Great Community
Eric Vermilion Named Aspire Co-Chair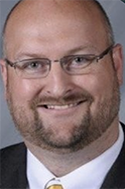 Eric Vermilion has been named Co-Chair of Aspire Johnson County, after serving in team leadership positions with the community initiative.
Vermilion joins Steve Jarosinski of Johnson Memorial Health as Co-Chair. He follows Dr. Kent Dekoninck, Superintendent of Greenwood Community Schools, who completed his two-year term.
Vermilion is Business Development Manager with Bailey & Wood Financial Group and previously was Director of Sales for Financial Center First Credit Union. He previously served as Co-Chair of Aspire's Infrastructure and Development Team and Growth and Planning Team.
A graduate of Franklin College, Vermilion has been active in the Johnson County community for several years. He has been an Ambassador with the Greater Greenwood Chamber of Commerce, past president of Dads Inc. and a volunteer with Kiwanis International. He currently serves on the Steering Committee for Johnson County Planning and Zoning.
"We are pleased to have Eric step into this important leadership role with Aspire. He has been actively involved and an important part of our Steering Committee almost from the beginning," said Dana Monson, Interim Executive Director of the Johnson County Development Corporation.
Monson also thanked Dekoninck for his contributions. "His guidance and leadership helped us make a significant impact on our community."
Aspire Johnson County, a program of the Johnson County Development Corporation, is a public-private partnership initiative aimed at making Johnson County, Indiana the destination to live, work, play and learn.