Imagining . Inspiring . Impacting a Great Community
Aspire "Meets Greenwood" in New Series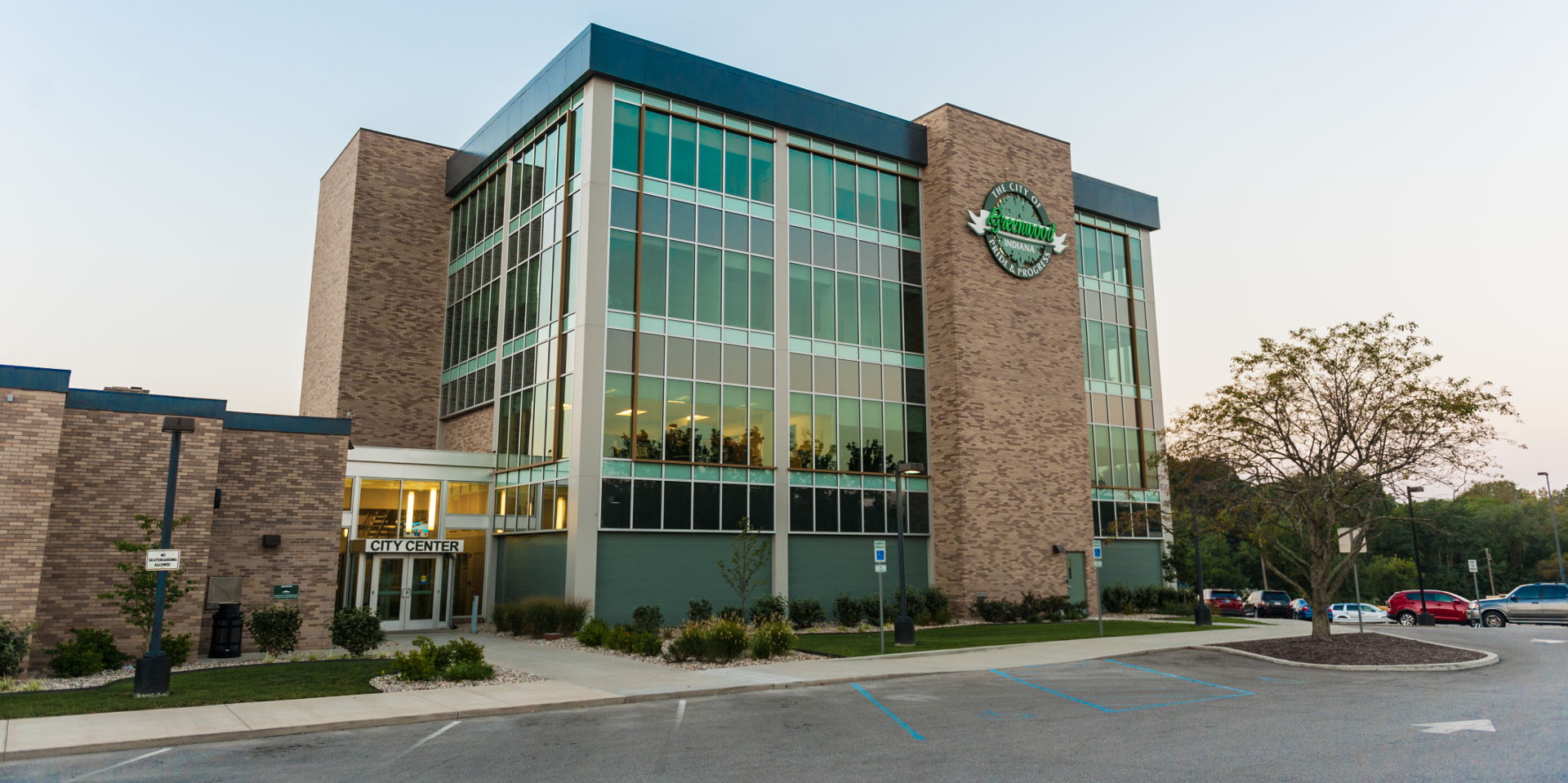 GREENWOOD, IN - Aspire Johnson County launced a new speaker series with the first meeting topic being "Meet Greenwood".
Approximately 30 participants gathered at the June 2017 Aspire meeting to hear from Krista Taggart, City of Greenwood corporation counsel, Jennifer Hollingshead, founder Restore Old Town Greenwood, Inc., Kent De Koninck, Greenwood Community School Corporation superintendent and Christian Maslowski, President and CEO of the Greater Greenwood Chamber of Commerce.
Krista presented about Greenwood's city government and how it was structured. Most interesting was that Greenwood became a second-class city on Jan 1, 2012. Cities can become a second-class city if they reach a population of 50,000 or more and if the city chooses to do so. Becoming a second-class city actually changes the government structure- moving to a 9 member council with a council president. The elected city clerk assists city council and the city court. There is no longer an elected treasurer, but an appointed controller that handles all of the city's financials.
Krista explained the Executive Branch of Greenwood government which has a variety of boards and commissions such as the Board of Public Works: a 3-member board than handles the majority of contracts and sewer. They also do health insurance and benefits for the city of Greenwood. Meets 1st and 3rd Monday at 5:30pm.
Krista also told us that the Redevelopment Commission has 5 members: 3 are appointed by the Mayor, 2 appointed by the city council with 1 school board member. The RDC is in charge of the funds that come from TIFF districts. The RDC identifies areas that need development or redevelopment that wouldn't happen otherwise- like the downtown revitalization. Assessors calculate the assessed value, which becomes the base. Any new value is captured goes into the TIFF fund to be used to redevelop other areas.
Some projects that used TIFF funds were: purchasing the new city building ( bank building had been in bankruptcy) to allow all city offices to be under one roof. City Center Park which used public and private funds to create splash pad and fully accessible playground. Façade improvements in downtown were also possible because of TIFF funds. The RDC also works closely with Dana Monson and JCDC to create abatements, infrastructure and training for businesses. Other boards are the Parks and Recreation, Stormwater, Airport, Fire and Police merit boards and others. The have 13 departments in the city of Greenwood.
Lastly, we learned about the Legislative branch, which is the city council. The council makes the budget and the laws. The clerk takes minutes for the council and maintains city records. The Judicial branch is made up of our city judge, the Honorable Lewis Gregory. He handles traffic violations with limited civil jurisdiction. The city clerk also maintains records for the court.
Next, Jennifer spoke about Greenwood's history; the audience learned that central Indiana became open to settlements in 1818 due to treaties with the Delaware Indians. The Smock brothers arrived from Mercer County KY and the area was initially known as Smocktown. The community was named Greenfield in 1825, then changed to Greenwood in 1833.
The town was incorporated in 1864. Jennifer told us about initial businesses in Old Town, such as George Noble that ran the very first business, an inn and post office, in Greenwood. One fact that some audience members didn't know was that the very successful J.T. Polk in addition to running the cannery, opened up Polk's Best Dairy in the 1890's.
They were the first dairy in Indianapolis to do home milk delivery. Another prominent business in Greenwood was the Sanitorium (also called sanitarium). A mineral spring was discovered in Greenwood and a 32-room inn was built to give treatments to visitors looking to alleviate symptoms such as kidney and liver troubles, asthma, and chronic malaria. The inn was destroyed by fire in 1914, but the pumphouse is still used by the Southside Art League today.
Jennifer talked about the changes seen in downtown Greenwood over the years, from a livery that rented horses and wagons in 1895 to housing a garage for 30 cars and a Ford sales office in 1920 to being a part of the façade project and revitalized in 2017. Lastly, Restore Old Town Greenwood is looking forward to the future of Old Town and upcoming investment in the heart of our community. There have been 2 new women's boutiques that opened in June of 2017 as well as a street improvement project on Madison Avenue, and a new residential historic district created as a partnership of ROTG and the City of Greenwood to recognize the oldest homes in Old Town and give residents and businesses access to tax credits for preservation work.
Christian said as director of the Greater Greenwood Chamber, his role is focuses on the local economy. The Chamber provides prospective businesses with consumer market information based on a 7-mile radius, centered in Old Town Greenwood. The local economy is strong with the average household earning $71,000. The Greenwood area has a 5.5 billion dollar local economy. Christian told the audience that Health and social services are the largest employment sector with retail being #2, food and beverage being #5. Approximately $340 million are spent on food and drink in Greenwood, averaging out to $1400 per person per year! Christian mentioned they now have a Greater Greenwood Chamber app called Southside Tastebuds that will find restaurants close by and encouraged everyone to download it to find reviews and directions to restaurants in Greenwood.
Why do we have a chamber? Chambers formed a long time ago because cities didn't have Economic Development boards our Tourism bureaus. They are a 501c6 business league with a professional staff. They have over 700 members, with 30% of their members located on the southside of Indianapolis. They work to maximize business potential by connecting peers, providing a forum for business leaders to come together, hold forums for elected officials. They are also engaged in the public transit discussion, business education and workshops. The Greater Greenwood Chamber works with SCORE to help manage growth, provide marketing advice and coach businesses. Business Ownership Initiative also has partnered with the Chamber to offer more business coaching capacity for those who have an existing business or would like to start one.
Dr. Kent DeKoninck spoke last about Greenwood Community Schools. Education, business and city government should all work together to thrive and that's what we have in Greenwood. This is the beginning of Kent's 5th year as Greenwood Superintendent and they have 3900 students enrolled at Greenwood- highest number of the last 10 years. Greenwood is challenged because the school district is 7 square miles- second smallest in the state geographically. They started taking out of district students, now currently having 480 that don't live in the district, about 12-13% of the enrollment. Demographics have changed over the years in past year 10% of students were minorities now 20%. Free and reduced lunches have gone from 25% to now 46%. Special Ed student enrollment have gone from 11% of students to 15% over 10 years. Kent spoke about training staff on cultural competency- which includes poverty, minorities, etc. and that focuses on how you view people with different lenses and your ability to form authentic relationships across differences.
Some of the most recent changes to the school district are: a new middle school opening July 2018, a new activity complex at the high school and facility upgrades to each school done with in the last 4-5 years. The school system has a healthy cash balance and rainy-day fund. RDC paid $1million in TIFF funds to purchase the old middle school which needed a ton of work, paving the way for downtown redevelopment.
Kent told us about the state grading system based on ISTEP score. Greenwood most recently got an A for the district, as a whole. Greenwood was one out of 23 districts to receive an A rating.
Challenges for the school administration: Greenwood started a public preschool because early education is so important, but it doesn't make money. Funding is also a hot button issue. Teacher shortage is real; French, Spanish, Math, Physics, and Special Ed positions are all hard to fill. Tax caps- are a challenge; the schools need dollars. Behavioral concerns coming from Kindergarten through Third grade are growing. More kids are living with grandparents or have lost parents due to drug overdoses. Over the last 7-8 years, he is seeing mental health and family issues more and more.