Imagining . Inspiring . Impacting a Great Community
Aspire G&P Team Hosts QuickBooks Event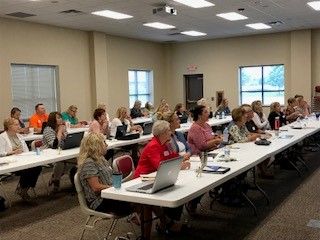 FRANKLIN - Aspire Johnson County partnered with the Franklin Chamber of Commerce to host a small business/non-profit QuickBooks workshop at Johnson County REMC on June 15. This program was born out of a desire by the Growth and Planning team and their goals to support our local small businesses.
More than 30 attendees gathered to learn more about the features and functions of QuickBooks. Dana Monson, interim director of JCDC, greeted participants and introduced Eric Vermilion business development manager at Bailey and Woods, who sponsored our delicious treats from Gigi's Sugar Shack, a locally owned Franklin restaurant.
Davin Kolderup, virtual branch manager at Johnson County Public Library spoke about the QuickBooks online training JCPL users can access through the library's website. David Richardt, CPA from BGBC went over the differences between using QuickBooks online vs. desktop. He guided the attendees through many functions of QuickBooks desktop before turning the floor over to Jennifer, business development manager at BGBC to do the same for QuickBooks online.
Rosie Chambers, assistant director of the Franklin Chamber of Commerce closed the program. David announced that all attendees could get a free one-hour consultation with BGBC to go over any questions that weren't answered during the workshop.
Small businesses make up 64 percent of new jobs according to the Small Business Administration. In fact, the majority of all U.S. based businesses are classified as small businesses. The SBA 2014 tech study determined that small businesses produced 16 times more patents per employee compared to large businesses. Both Aspire JC and JCDC are committed to supporting our local businesses by providing valuable training and educational opportunities that will help the business be more efficient and profitable in our community.
Thank you so much to our wonderful presenters from BGBC, Bailey and Wood for our breakfast, the Franklin Chamber of Commerce for partnering on this educational program and the Johnson County REMC for providing beverages and their community room.